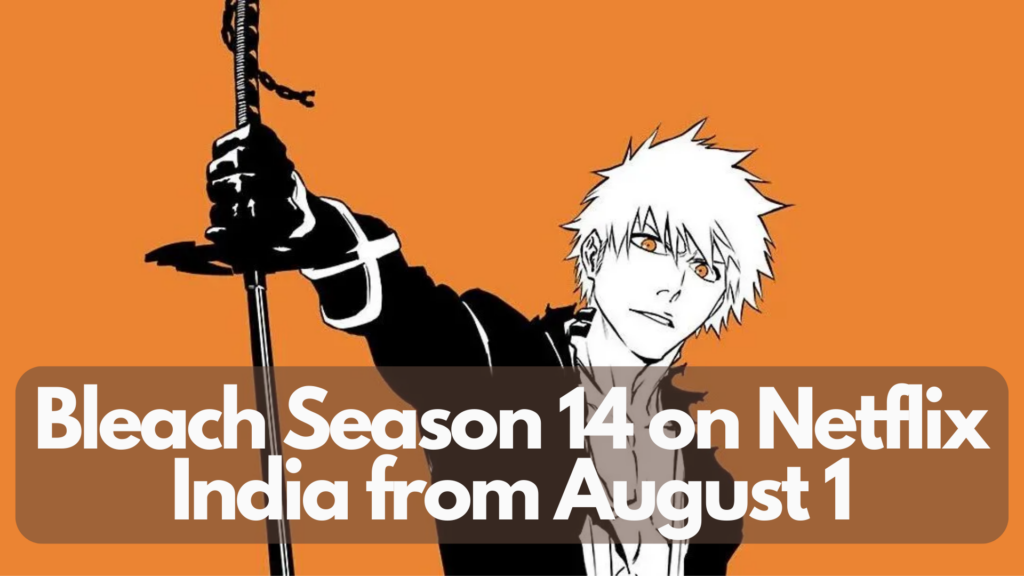 Get ready to wield your Zanpakuto and step into the action-packed world of Bleach! Brace yourself for an exciting announcement as Netflix India brings you Bleach Season 14, igniting your screens with thrilling battles, supernatural powers, and gripping storytelling. Starting on August 1, immerse yourself in this epic anime adventure that has captured the hearts of fans worldwide.
The Journey of Bleach
Originally airing from 2004 to 2012, the Bleach television anime quickly became a fan-favorite, spanning 366 episodes. Its popularity has endured over the years, leading to its availability on various platforms. Ani-One Asia's YouTube channel began streaming the anime on September 16, followed by bilibili offering free streaming from August 13. In June 2023, Crunchyroll also joined in, bringing Bleach to Indian audiences.
Bleach: Thousand-Year Blood War
Fans were thrilled when Bleach: Thousand-Year Blood War, an anime adaptation of Tite Kubo's manga arc of the same name, returned for its second cours on July 8. Ani-One Asia wasted no time in making the second cours available to Indian viewers on the very same day as its Japanese premiere. Netflix India has also embraced this exhilarating arc, streaming Bleach: Thousand-Year Blood War for their audience. Since October 10, Ultra subscribers of Ani-One Asia's YouTube channel have been enjoying this fantastic addition.
Expanding Netflix's Offerings: Bleach Season 14 Arrives and Beyond
With the addition of Bleach Season 14 on Netflix India, fans can now continue their journey through the anime series. The platform currently streams episodes up to 265, covering the initial run of the show. This latest season will undoubtedly offer more thrilling adventures, intense battles, and captivating storytelling.
It's worth noting that Tite Kubo's Bleach manga debuted in Weekly Shonen Jump back in 2001 and concluded in August 2016. Viz Media played a significant role in bringing the manga to international fans, publishing it digitally in English, while Shueisha continued releasing new chapters in Japan. The manga's popularity soared, amassing a circulation of 130 million copies worldwide.
The immense success of Bleach extends beyond its animated and printed adaptations. The franchise has expanded into four films and two OVAs, immersing fans in thrilling storylines. Furthermore, Bleach has inspired a wide range of entertainment forms, including video games, novels, stage plays, and even a live-action film that delighted audiences when it hit theaters in July 2018.
Must read: One-Punch Man: World – Unleash Your Powers in the Ultimate Online Multiplayer Action Game
Building Excitement for Bleach Season 14: What Fans Can Expect
As Bleach Season 14, also referred to as "Season 10" on Netflix, approaches its much-anticipated release date on August 1, fans are eagerly awaiting what lies ahead. With the Thousand-Year Blood War arc at the forefront, viewers can expect a thrilling continuation of the story, filled with epic battles, intriguing revelations, and the emergence of formidable new adversaries. The stakes are higher than ever as Ichigo and his allies confront the powerful and enigmatic Quincy army.
With Bleach Season 14 joining the ranks of Bleach on Netflix, fans can look forward to experiencing the next chapter in this epic saga. The streaming platform has become a hub for anime enthusiasts, offering a convenient and accessible way to follow their favorite shows. Whether you're catching up on previous seasons or jumping straight into the new release, Netflix provides an immersive and thrilling viewing experience for Bleach fans in India.
Conclusion
As Bleach Season 14 arrives on Netflix India on August 1, fans of the beloved anime can look forward to experiencing more of its captivating world and engaging characters. Whether you're a long-time fan or a newcomer to the series, the addition of this latest season provides an opportunity to further explore the story that has captured the hearts of many. So mark your calendars and get ready to embark on new adventures with Ichigo and his friends as they face new challenges and uncover the secrets of the Bleach universe.