Written by Kafka Asagiri and illustrated by Sango Harukawa, Bungou Stray Dogs is originally a Japanese manga series. It has been serialized in Kadokawa Shoten's seinen manga magazine Young Ace, since 2012. Later on, an anime television adaptation of Bungou Stray Dog was announced by Bones Studios in 2015.
The fourth season, ie Bungou Stray Dogs Season 4 was announced last year on 7 November 2021.
The Bones Studios has produced several hit titles in the past including RahXephon, No. 6, Wolf's Rain, Scrapped Princess, Eureka Seven, and Mob Psycho 100. The previous seasons of the anime Bungou were also produced by the same production company. It was written by Yoji Enokido and directed by Takuya Igarashi. The anime series is licensed in North America by Crunchyroll.
Bungou Stray Dogs Season 4 Trailer
The new Bungou Stray Dogs Season 4 trailer has just been released, and it indicates that Osamu Dazai is being jailed while his companions are forced to face the Hunting Dogs. The Bungo Stray Dogs Season 4 trailer debuted at Crunchyroll Expo 2022 during the anime's panel.
Bungou Stray Dogs Plot
In Bungou Stray Dogs, the story revolves around a young man called Atsushi Nakajima. Following his expulsion from his orphanage, Atsushi intervenes in the suicide of a detective called Osamu Dazai, who believes he is drowning in the river.
During his contacts with Dazai, Atsushi discovers he possesses a mystical talent capable of converting him into a berserker white tiger in the moonlight, which used to torment and expel him from the orphanage. Dazai recruits him into the Agency, where he meets many other ability users as they work on various cases and events in the city of Yokohama, which is overflowing with people with Supernatural Abilities. And because there is a reward on Atsushi's head on the black market, he becomes the target of Port Mafia member Rynosuke Akutagawa.
During his battles with the mafia, Atsushi encounters Francis Scott Key Fitzgerald, the leader of the Fellowship of the Guild who put a price on his head. Fitzgerald explains that there is a mystical book capable of changing reality that is related to Atsushi's tiger, thereby creating a black market bonanza. Fitzgerald disregards the Guild's potential damage to Yokohama in exchange for the book, instead having an airship dubbed "Moby Dick" destroy the city. However, when Atsushi and Akutagawa join forces, he is nearly slain, while former mafia member Kyoka Izumi stops Moby Dick.
Another guy, Fyodor Dostoyevsky, emerges and wishes to gain the book to eliminate all brilliant individuals. He prepares a fatal clash between the investigators and the mafia, but Natsume Soseki, the genuine boss of this group, calls it off. While Atsushi and Akutagawa are pursuing the virus's creator, Dazai can apprehend Dostoyevsky with the assistance of Fitzgerald. However, it is eventually discovered that Dostoyevsky contrived his incarceration to lead his followers. The book's pages are subsequently discovered by Dostoyevsky's organization The Decay of Angels, which utilizes its abilities to incriminate the Agency in a murder case.
Bungou Stray Dogs Characters
Bungou Stray Dogs Season Four's voice actors will include both familiar and new faces to help fill out the next exploits of one of anime's most popular detective agencies.
Yuto Uemura as Atsushi Nakajima
Mamoru Miyano as Osamu Dazai
Sumire Morohoshi as Kyoka Izumi
Kenshiro Ono as Ryunosuke Akutagawa
Kisho Taniyama as Chuya Nakahara
Akio Otsuka (Batou in Ghost in the Shell) as Fukuchi Genichiro
Makoto Koichi (Yuka Tokitate in I'm Standing on a Million Lives) as Teruko Okura
Takehito Koyasu (Zeke in Attack on Titan) as Nikolai G
Takeshi Kusao (Ladros in Black Clover) as Mushitaro Oguri
Bungou Stray Dogs Season 4 Release Date
The release announcement came up on the website of Bungou Stray Dogs with a poster.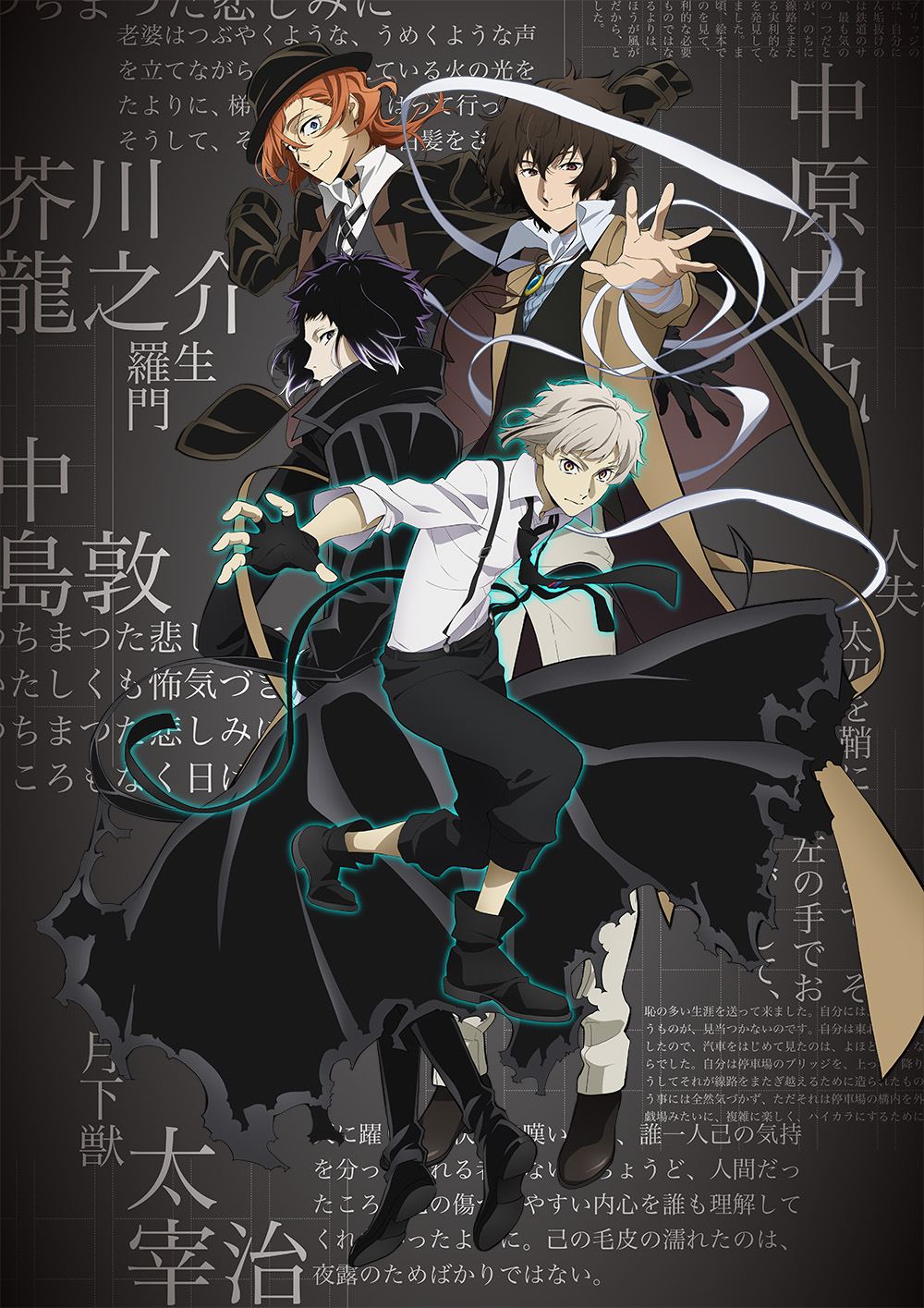 The most awaited Bungou Stray Dogs Season 4 is confirmed to release in January 2023, Winter Anime calendar 2023 exclusively on Crunchyroll. The same has been announced during Crunchyroll Expo 2022.
If you want to watch previous seasons of Bungou Stray Dogs or want a recap of the episodes, you can watch it on Crunchyroll.
---
Have you watched Bungou StraY Dogs?
---
Let us know in the comment section and make sure to check our website which is heaven on earth for weebs like you.