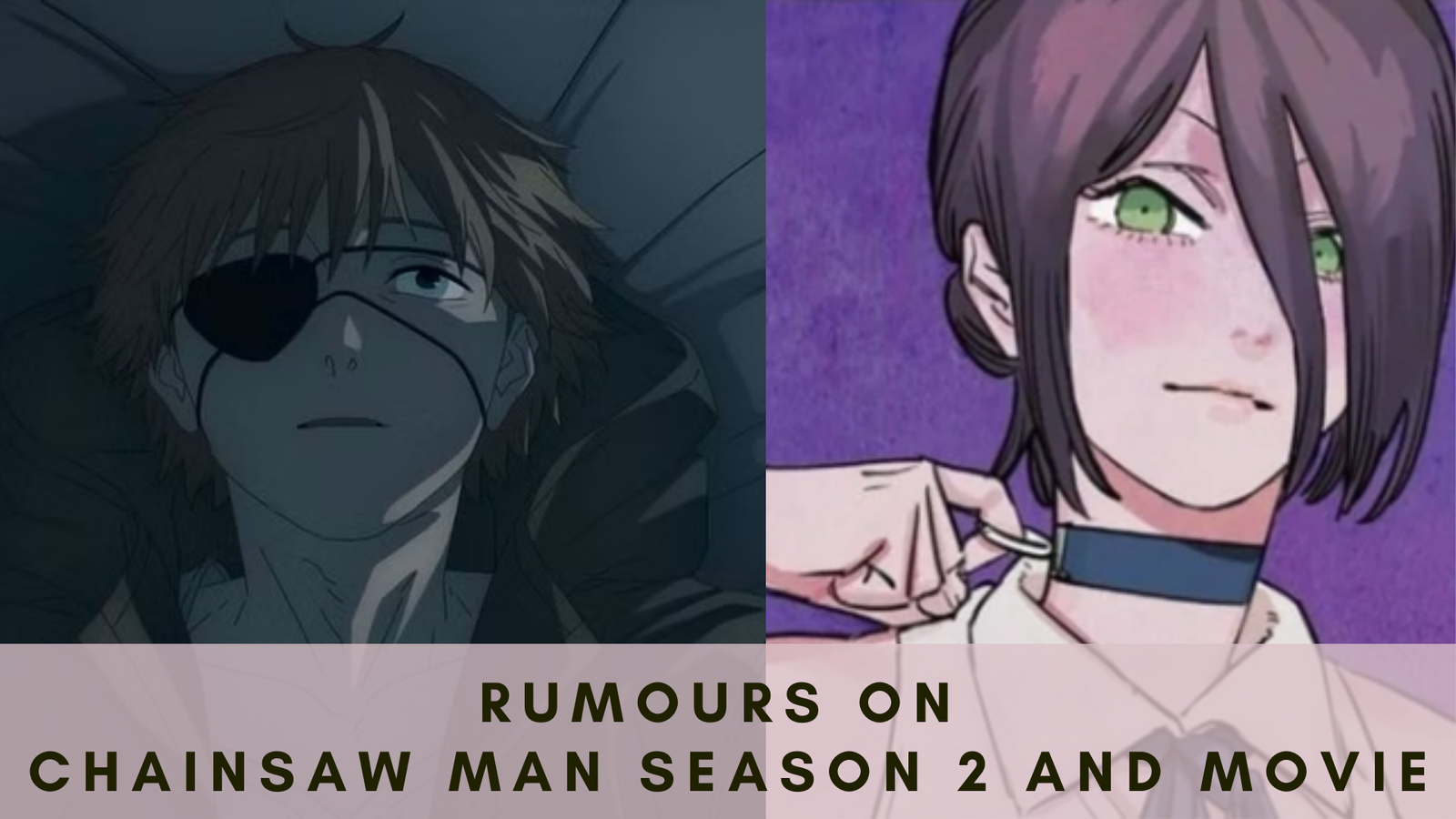 Chainsaw Man, the popular dark fantasy manga series by Tatsuki Fujimoto, has captivated fans worldwide with its unique story and captivating characters. After the successful release of its first season, rumors have been circulating about the possibility of a second season and a Chainsaw Man movie adaptation. While no official confirmation has been provided by Studio MAPPA, leaks, and speculation have fueled excitement among fans. In this article, we will explore the rumors surrounding Chainsaw Man Season 2 and the potential Chainsaw Man movie, discussing the current status, expected plot developments, fan expectations, cast members, and where to watch the series.
The Silence and Leaks Around Chainsaw Man Season 2
Since the conclusion of the first season, Studio MAPPA has been relatively quiet about the future of Chainsaw Man. Despite expectations for an immediate announcement of a second season, the studio's involvement in other projects like Vinland Saga and Jujutsu Kaisen Season 2 has led to delays. However, leaks originating from the Chinese social media platform Weibo and shared by reputable anime leakers on Twitter strongly suggest that Chainsaw Man is not only getting a second season but also a highly anticipated movie adaptation. These leaks have generated significant excitement among fans and have been met with positive reactions from the anime community.
Chainsaw Man First Season and Fan Reception
The first season of Chainsaw Man premiered in October 2022, introducing viewers to the protagonist, Denji, a Devil Hunter who becomes the formidable Chainsaw Man after a life-altering event. Directed by Ryū Nakayama, the adaptation received mixed reactions due to its cinematic approach and unique art style. While some fans appreciated Nakayama's vision, others voiced their concerns and even launched petitions for a remake with a different director. Despite the division among fans, the anime garnered significant attention and accolades, with over 24 million copies of the manga in circulation and numerous awards.
Must read: 'Look Back' Chainsaw Man creator releases a Free Special One-Shot Manga ahead of anime release!
Plot Expectations for Chainsaw Man Season 2
If the rumors hold true, Chainsaw Man Season 2 is expected to cover chapters 39 to 70 of the manga, delving into the Bomb Girl Arc and the International Assassins Arc. Denji, Aki, Makima, and Power are anticipated to return as main characters, with the addition of Reze, a character briefly introduced in the final moments of the first season. Fans are eager to see how the story unfolds and how these characters' journeys progress, as well as the potential development of Denji's powers and his encounters with formidable adversaries.
Denji, the protagonist and Chainsaw Man himself will continue to be at the forefront of the narrative. As a Devil Hunter with immense power, Denji's journey is poised to take new and unexpected turns.
The return of key characters from the first season, including Aki, Makima, and Power, is highly anticipated. Aki, as Denji's ally and friend, will likely face new challenges and play a pivotal role in the upcoming story arcs. Makima, the enigmatic and manipulative character, is expected to further unravel her complex motives and hold a significant influence over the events to come. Power, with her fierce personality and unique abilities, will continue to be a compelling force within the narrative.
Additionally, the introduction of Reze in the final moments of the first season has left fans curious and excited for her expanded role in Season 2. As a character shrouded in mystery, Reze's potential alliances or conflicts with the main cast, particularly Denji, add an element of intrigue to the story.
As the story progresses, fans can also anticipate the introduction of new supporting characters who contribute to the world-building and enrich the narrative. These characters may provide crucial information, guidance, or emotional support to the main cast, adding depth and complexity to the Chainsaw Man universe.
Possibilities for Chainsaw Man Movie Adaptation
While details about the rumored Chainsaw Man movie are scarce, fans speculate on the potential storylines and whether the film will follow the canon or take a non-canon approach. The rich world of Chainsaw Man offers various arcs and events that could be explored in a standalone film providing fans with new perspectives and expanding the universe, pre beyond the manga and anime series. The Chainsaw Man movie, if confirmed, would offer an exciting opportunity to further engage with the characters and dive deeper into the lore of the Chainsaw Man universe.
Studio MAPPA's Vision and Challenges with Chainsaw Man Season 2
Despite the success of the first season, MAPPA's CEO, Manabu Otsuka, expressed his desire for Chainsaw Man to have the same impact as another popular series, Jujutsu Kaisen. Otsuka cited lower DVD/Blu-ray sales as one of the factors that fell short of expectations.
One of the primary discussions among fans revolves around the possible adaptation of specific arcs or the creation of an entirely original story. The Chainsaw Man manga contains numerous captivating arcs that could be compelling choices for a Chainsaw Man movie adaptation. From the electrifying Gun Devil Arc to the emotionally charged Control Devil Arc, there are plenty of narratives that possess the potential to captivate audiences on the big screen.
However, the studio remains committed to finding ways to reach a wider audience and generate greater financial success. The upcoming season and potential Chainsaw Man movie provide opportunities for MAPPA to address these challenges and explore different strategies to connect with fans.
Cast for Chainsaw Man Season 2
Chainsaw Man Season 2 features a continuation of the captivating storyline from the first season, with various arcs centered around significant incidents. The upcoming season will bring back familiar characters from the previous season while also potentially introducing new additions to the cast.
Voice Actors and Characters:
Makima (Main): Voiced by Kusunoki Tomori (Japanese)
Power (Main): Voiced by Fairouz Ai (Japanese)
Denji (Main): Voiced by Toya Kikunosuke (Japanese)
Aki Hayakawa (Main): Voiced by Sakata Shougo (Japanese)
Kobeni Higashiyama (Supporting): Voiced by Takahashi Karin (Japanese)
Pochita (Supporting): Voiced by Izawa Shiori (Japanese)
Himeno (Supporting): Voiced by Ise Mariya (Japanese)
Angel Devil (Supporting): Voiced by Uchida Maaya (Japanese)
Beam (Supporting): Voiced by Hanae Natsuki (Japanese)
Kishibe (Supporting): Voiced by Tsuda Kenjirou (Japanese)
The cast of characters from the Chainsaw Man manga, which may appear in Season 2, includes:
Katana Man
Galgali
Furuno
Nomo
Kato
Tanabe
Tsuhgihagi
Captain Kishibe
Princi
Angel
Himeno
Fushi
Madoka
Hirokazu Arai
Kobeni Higashiyama
Beam
Reze
Quanxi
Akane Sawatari
Santa Claus
Master
Tolka
As the story progresses in Season 2, viewers can look forward to the development and interactions of these intriguing characters, each playing their part in the intense and thrilling world of Chainsaw Man
Where to Watch Chainsaw Man Season 2
As for where to watch Chainsaw Man, fans can catch the first season on streaming platforms such as Crunchyroll. If a second season and a Chainsaw Man movie are confirmed, they will likely be available on similar platforms, offering fans the opportunity to continue their journey alongside Denji and his comrades.
Conclusion
Although Studio MAPPA has not officially confirmed Chainsaw Man Season 2 and the Chainsaw Man movie adaptation, leaks, and rumors have generated excitement among fans. The first season's unique approach divided opinions, but it undeniably left an indelible mark on viewers. With expectations for plot developments, character arcs, and potential new storylines, fans eagerly await news from the studio. The future of Chainsaw Man holds great promise, and if the rumors are true, fans can look forward to more thrilling and captivating adventures in the world of Devil Hunters and the enigmatic Chainsaw Man himself.