The tear 2022 is bringing a classic back to life and there's every reason to hype this release. Rumiko Takahashi's Urusei Yatsura is getting a new release! The manga for the series was originally released in the Weekly Shonen Sunday from 1978 to 1987! Rumiko Takahashi is also known for her series wildly popular series Inuyasha and Ranma 1/2 even though her career actually took off with Urusai Yatsura itself!
The original Urusai Yatsura anime series aired from 1981 to 1986 with a total of 195 episodes. The new anime series is under David Productions, best known for Jojo's Bizarre Adventures! The official website for the anime has released a promotional video with a teaser for the show and its release in 2022 along with some of the main cast and staff.
The older anime series is rated 7.7 on My Anime List!
Urusei Yatsura Trailer
The official trailer is yet to be out. But we have a promotional teaser video! The teaser serves as an announcement for the anime's release announcement and cast. Check it out below
What is Urusei Yatsura About?
Urusei Yatsura is a romantic-comedy science-fiction series that centres around the Oni, a race of space aliens that invade earth but instead of taking the planet by force, they conduct a game called Oni, much like the actual game that is played in Japan. The human candidate selected for the games is Ataru Moroboshi, a regular, unlucky, and below-average high-schooler.
His competitor is Princess Lum, the daughter of the leader of the aliens. On the day of the competition, Ataru uses underhanded methods to win the competition. His girlfriend Shinobu also encourages him by promising to marry him if he wins. Ataru accepts and announces his will to marry her but gets misinterpreted by Lum as a proposal for her, which she accepts on live TV. This confusion leads her to move in with him and eventually fall for him.
Ataru does not seem interested in her in the beginning but gradually realizes that she is someone important to him. Their push and pull create a series of hilarious events including Ataru getting electrocuted by Lum every now and then because of his sleaziness.
Rumiko Takahashi has also revealed a special illustration for the anime on Twitter celebrating its 2022 return! The series also celebrated its 40th anniversary in 2018.
When Will Urusei Yatsura Release?
Urusei Yatsura has announced a release for its first cour in 2022. It is Friday, October 14, 2022. The official website for the new anime series has revealed that the anime will adapt select stories from the manga meaning it will not span as long as the original series which was 195 episodes long.
The exact release date for the new Urusai Yatsura anime is not confirmed yet but it is expected to the revealed soon.
Urusei Yatsura (2022) Season 1 to broadcast 2 cours consecutively
In a tweet shared by AIR, it is learned that Urusei Yatsura (2022) will broadcast its first two parts consecutively. The new series as we already know will be called "Lum, the Invader Girl" and will have 46 episodes. The Urusei Yatsura Season 1 release is scheduled for October. In other words, Part 1 and Part 2 of "Urusei Yatsura" will be enjoyed during the autumn and winter anime seasons. There is no update about Season 2 and whether part 3 and part 4 will also air consecutively.
The tweet also introduces us to a new character.
How many episodes will Urusei Yatsura's anime (2022) have?
@animetv_jp has confirmed the number of episodes of the new "Urusei Yatsura" anime as currently listed in Japan
In total, Lum, the Invader Girl anime will have 46 episodes. This obviously is a drastic cut down from the 195 episodes of the original anime. Furthermore, it has been confirmed that 46 episodes will be split into 4 parts of which the first 2 will air consecutively. Each cour will have 12-13 episodes.
The news is not surprising because it was already announced that they would only adapt certain things from the manga. The question that remains in every fan's mind is will 46 episodes be enough to adapt a manga that has a total of 34 volumes and 374 chapters?
However, the new Urusai Yatsura anime will have a year-long run with 4 cours with an estimated 11-12 episodes per cour. The cours are not guaranteed to be consecutive but the series will still have four cours. Each cour of Urusei Yatsura (2022) will have 11 and 12 episodes, the standard length of most quarterly anime today.
Where To Watch Urusei Yatsura?
The anime has only revealed the Fuji TV broadcast for now and will add more channels that it will be coming to. As for streaming platforms, it is likely that Crunchyroll will pick up the anime for streaming owing simply to its classic status.
Other platforms may eventually announce streaming but there are no updates on that as of now. The older version of the anime is not available on any official streaming platform and is only available sparingly on unofficial websites.
Urusei Yatsura Characters, Cast and Staff
Urusai Yatsura has revealed only the two main characters and their voice actors who will be appearing in the new anime:
Hiroshi Kamiya as Ataru Moroboshi
Sumire Uesaki as Princess Lum
In a recent tweet, a new character got introduced by name of Ran with the voice given by Kana Hanazawa of Chloe in "Pokémon Travels" fame. Check out the first image of Ran.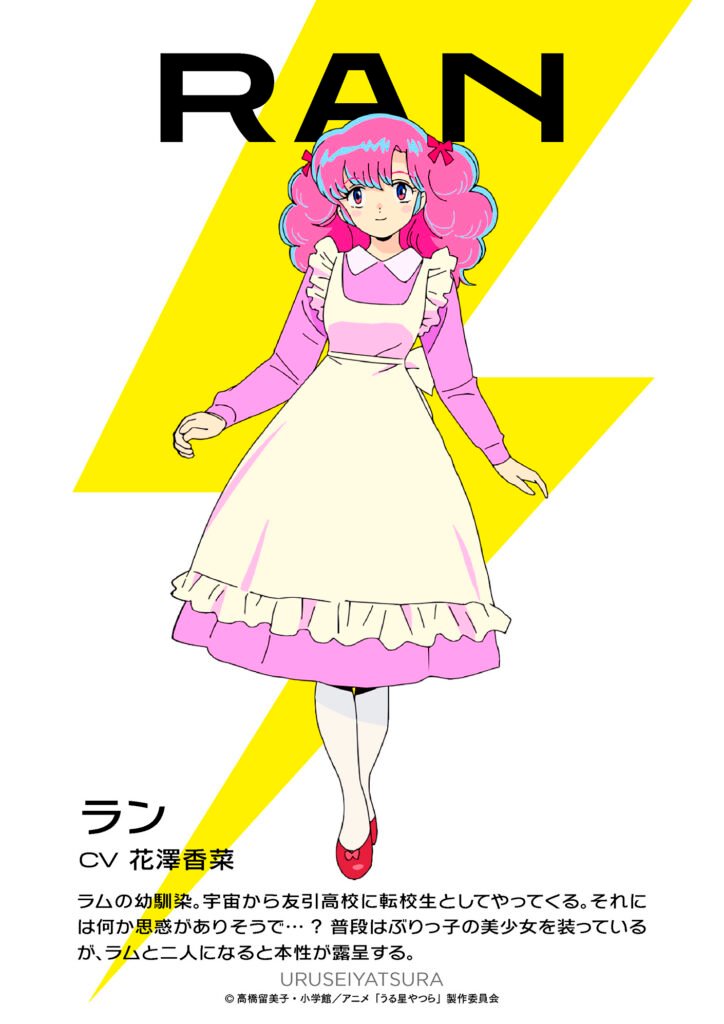 David Productions is working on the revamp of the anime. Hideya Takahashi and Yasuhiro Kimura are directing the anime, Yuuko Kakihara if the script supervisor, and Naoyuki Asahino is the character designer.
FAQs – Urusei Yatsura Edition
Q. Is Urusei Yatsura a harem anime?
A. The anime is definitely a harem romantic comedy with science fiction and aliens! Princess Lum does not have an easy time pursuing Ataru because of his nature as he keeps going after other people, introducing a lot of characters in the anime.
Q. Does Ataru end up with Lum? *spoiler alert*
A. Even as their relationship begins in a rocky way with Ataru running after other people all the time, leaving Lum behind, he eventually realizes how much she means to him and begins to see the future that she sees. Ataru begins to want to protect the future that has them happily married.
Q. Is Urusei Yatsura popular?
A. Urusei Yatsura is Rumiko Takahashi's first popular work which made way for more like Inuyasha and Ranma 1/2. The manga began circulation in 1978 and has 35 million copies in circulation! The anime also has a significant following as it aired on Animax Asia in the early 2000s as well.
Stay tuned for updates on the new Urusei Yatsura and all the good stuff from your favorite titles. In the meantime, don't forget to let us know your picks from Winter 2022 anime releases and let us know all you plan to watch in the upcoming season!